Customized Comfort With Ductless Mini-Splits Around Wichita, KS
Get customized comfort with ductless mini-splits around
Wichita, KS
, and
the surrounding areas
with On Time! Because mini-splits work in zones and are not attached to a central system, they're great options for parts of your home that struggle with consistent temperatures. Additions, garages, or any area of your home where you want targeted comfort are prime candidates for a mini-split. At On Time Plumbing, Heating, Cooling & Electric, we offer comprehensive ductless mini-split services. From installation to repairs, we can help you with any ductless HVAC service you need.
For expert ductless mini-split services in Wichita, turn to On Time. Schedule your appointment today by calling 316-721-5055 or

contacting us online

today!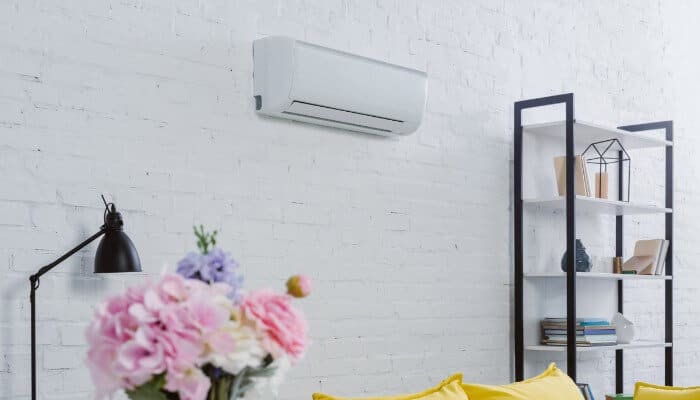 Ductless Mini-Split Repair For Wichita, KS
While ductless mini-splits are energy-efficient and durable, they can still run into problems that need repair. When one of your mini-splits isn't working right, our experts at On Time are ready to help. We service all brands and will quickly diagnose and repair your ductless mini-split so your home can be comfortable again. Here are some common signs that you need ductless mini-split repairs:
Sudden spikes in your utility bills
Leaking fluids
Ice or frost build-up
Strange smells or sounds
No air coming from vents
If you notice any of these signs, call for repairs right away. A quick response can help minimize damage and needed repairs.
Ductless Mini-Split Installation & Replacement
If you're interested in installing a ductless mini-split system in your home or your current system needs to be replaced, we're ready to help! Our technicians are skilled and experienced in ductless mini-split installation and replacement. We'll evaluate your home and needs to ensure we provide comprehensive recommendations. Then, we'll discuss your options so you feel comfortable that you're making the best decision for your home, family, and budget. Once you sign off, our team will expertly install your new ductless mini-splits, so you can trust they'll work properly right from the start.
For top-notch ductless mini-split installation and replacement in Wichita, choose On Time!
Contact us online
to request a FREE estimate for a ductless HVAC installation.
Ductless Mini-Split Maintenance & Tune-Ups
Regular, professional maintenance for your ductless mini-splits is important. In addition to extending the life span of your system, professional tune-ups:
Improve energy-efficiency
Provide better indoor air quality
Reduce repair frequency and costs
Lower utility bills
During your ductless mini-split maintenance appointment, our team will clean and inspect your system to make sure all parts and components are in good condition.
Why Choose On Time?
Since 2004,
our skilled team
at On Time Plumbing, Heating, Cooling & Electric has delivered on-time and reliable service. We want you to be as comfortable as possible in your Wichita home. That's why we offer same-day services paired with high-quality workmanship. We're committed to delivering value, which is why our services are performed by highly trained, licensed, and insured technicians. Additionally, we offer upfront pricing,
financing options
, and military, veteran, and senior discounts.
For expert ductless mini-split services in Wichita, choose On Time Plumbing, Heating, Cooling & Electric.