Whole-Home Generator Services For Wichita-Area Residents
Since 2004, On Time Plumbing, Heating Cooling & Electric has provided expert installation and repair services - now that includes whole-home generator services for Wichita-area residents.
When it comes to keeping your property running smoothly and efficiently, you can trust that our reliable technicians have the knowledge and tools needed to help get any job done safely and promptly. Whether you're looking for generator repairs or new installations, we're here to help.
Don't let your home be left in the dark during a power outage! Call 316-721-5055 to get started with a standby generator!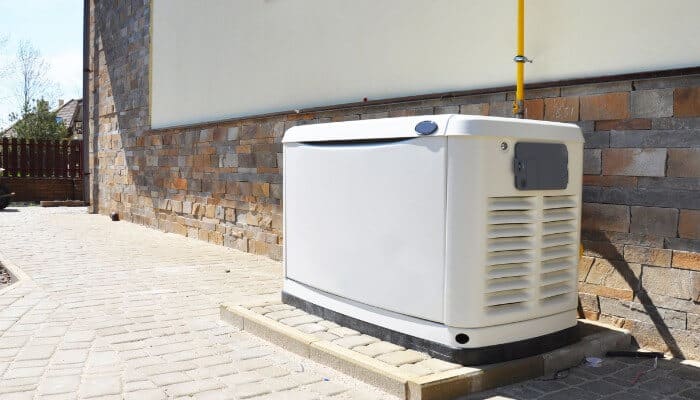 Frequently Asked Questions About Generators
What Size Generator Do I Need?
The generator size you need depends on several factors, including the amount of power you need for your home, the type of fuel you prefer, and the available space. Depending on your budget and capacity needs, we'll help you make the right selection for your home.
Do Whole-Home Generators Need Maintenance?
Yes, whole-home generators need regular maintenance to ensure that they're running efficiently. Like any other mechanical equipment, generators require regular checkups, cleaning, and tune-ups to keep them running smoothly. It's the best way to prevent costly repairs.
Are Whole-Home Generators Safer Than Portable Generators?
Whole-home generators are generally considered safer than portable generators. This is because they are connected directly to your home's electrical system, and they turn on automatically during a power outage, eliminating the risk of human error. Portable generators also pose a risk of fire or carbon monoxide poisoning when they are operated inside or near the home.
Benefits Of Whole-Home Generators Around Wichita, KS
With a standby generator, you can experience reliable power during outages at your
Wichita, KS
, home! You don't have to worry about comfort or connectivity ever again. These systems provide a variety of benefits, including:
Automatic power: Whole-home generators automatically turn on when there is a power outage and turn off when power is restored. This ensures that your home always has power, regardless of the weather or other conditions.
Multiple power sources: Whole-home generators can run on a variety of fuel sources, such as natural gas, propane, or diesel.
Backup power: Whole-home generators provide backup power for your entire home, not just a few select appliances. This allows you to keep your lights, HVAC systems, and other essential systems running during an outage.
Safety: Whole-home generators provide a safe and reliable source of power during an outage, which can help protect your family and your home.
Convenience: Whole-home generators are convenient because they don't require manual operation, they turn on automatically when needed, avoiding the need to fumble with extension cords and power strips.
Generator Installation & Replacement Near Wichita
When the power goes out, your safety shouldn't be at risk. On Time provides professional generator installation and replacement services in Wichita and
the surrounding areas
. There's great comfort in knowing that reliable electricity is just a flip of a switch away! Our experienced technicians will help choose the right type for your home's specific needs to ensure a safe setup with no hassle.
Do you want a generator installed at your home in Wichita, Newton, or the surrounding areas?

Contact us online

to request a free estimate!
Generator Repair For Wichita, KS
At On Time, we also offer professional generator repair services to keep your generator running efficiently and effectively. Our team of experienced technicians can help you troubleshoot and fix common generator problems such as:
Fuel system issues
Electrical problems
Cooling system issues
Lack of maintenance
Control system issues
Battery issues
Mechanical problems
Schedule Whole-Home Generator Services
On Time Plumbing, Heating, Cooling & Electric is here to make sure you never have to worry about a blackout! Our upfront pricing and background-checked technicians guarantee top-of-the-line services for your whole-home generator. We also offer flexible financing options. We also guarantee your satisfaction with our services, so you can have peace of mind.
Get back up and running quickly when you choose On Time to handle your generator needs!