Electrical Panel Upgrades, Installation & Repairs Near Wichita, KS
Think about how old your house is. Now think about, when your house was built, how many additional things you plug in now versus back then. A lot more, right? Depending on the age of your home and how much electricity you use, it may be time for an electrical panel upgrade. Your electrical panel is the heart of your home's electrical system, distributing power to every room and device. On Time Plumbing, Heating, Cooling & Electric provides full electrical panel services including upgrades, installations, and repairs in and around Wichita. Connect with our team today for a free estimate on your home's new panel and get your power running safely and efficiently!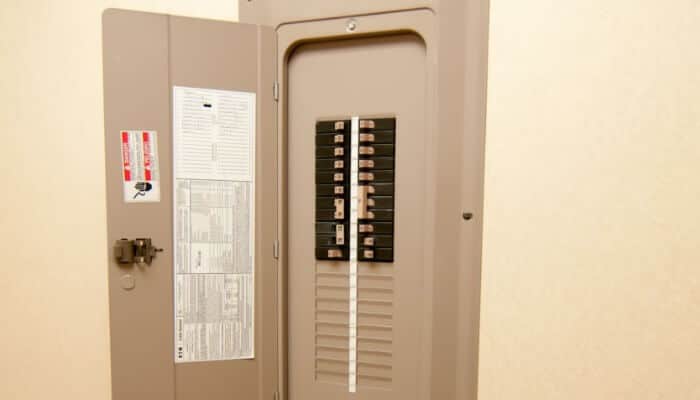 Electrical Panel Upgrade
An outdated or undersized electrical panel can lead to frequent circuit breaker trips, dimming lights, and even pose a fire risk. If your home has grown over time with the addition of high-powered appliances, or your panel is showing signs of wear and tear, it may be time for an upgrade. Our team will assess your current panel and recommend an upgrade if necessary. Upgrading your panel can enhance the safety and efficiency of your home's electrical system as well as accommodate your increased power needs.
New Electrical Panel Installation
Whether you're building a new home or undertaking a major renovation, our team can provide expert electrical panel installation services. We work with a variety of panels, including main breaker panels, fuse boxes, main lug panels, and subpanels, tailoring our services to suit your specific needs and preferences. Our professional installers will ensure your new panel is installed correctly, meeting all safety standards and regulations.
Electrical Panel Repair
If your electrical panel is experiencing issues, our licensed electricians will provide prompt and reliable repair services. Common problems like circuit breaker trips, flickering lights, or burnt fuses are often signs of deeper issues within your panel. It's crucial to address these problems promptly to prevent potential hazards. Our team will diagnose and repair these issues to restore your panel to optimal functionality.
You Can Trust On Time's Expertise
When you work with On Time, you work with the best in Wichita! Our customers keep coming back to us for many reasons, including:
Free Estimates on New Systems - We provide no-obligation, free estimates for new electrical panel installations, helping you make an informed decision.
Financing Available - We understand that electrical work can be a significant investment. That's why we offer flexible financing options to fit your budget.
Expert Installers - Our team is comprised of licensed professional electricians who are trained in the latest industry standards and technologies.
Satisfaction Guaranteed - Your satisfaction is our top priority. We stand behind our work and won't rest until you're completely satisfied with our service.
On Time Plumbing, Heating, Cooling & Electric is committed to providing top-quality electrical panel services that enhance the safety and efficiency of your home. Contact us today at 316-721-5055 to schedule a service and discover the difference we can make in your home's electrical system.