Water Leak Detection Services Near Wichita, KS
Some water leaks are pretty obvious, like when water is gushing from your sink causing a big mess. Other times, however, a leaky pipe can be very hard to find. Most of our plumbing system is tucked away within walls, beneath floors, and under the ground. On Time Plumbing, Heating, Cooling & Electric offers top-tier leak detection services that are designed to accurately and efficiently identify leaks within your pipes and entire plumbing system. We specialize in detecting slab leaks, wall leaks, and basement leaks, offering reliable solutions to protect your Wichita area property. Best yet, we're available 24/7 for emergency plumbing repair. Call us at 316-721-5055 today get started!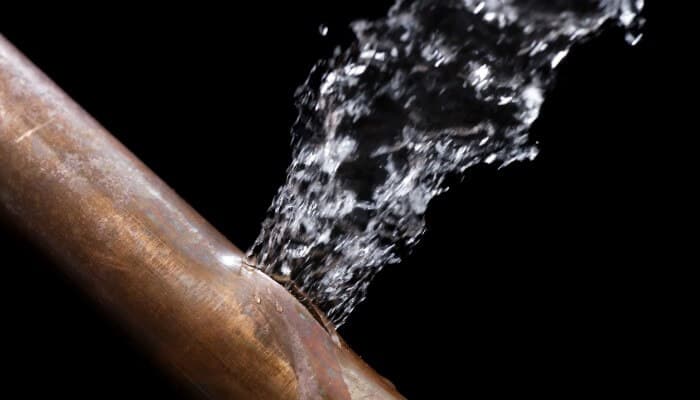 What's The Best Way To Check For Toilet Leaks?
Toilet leaks can be wasteful and expensive. At least once a year, check your toilet for leaks by adding a small amount of red food coloring to the tank, and then check the toilet bowl later. If the toilet bowl water is colored red, water is seeping through from the tank. If it is leaking, you should replace the tank ball.
Check the emergency shutoff under your sink to make sure it's fully open. If rubber washers or seals have begun to deteriorate, you'll also lose water pressure, so check those. Calcium and lime buildup will also cause low water pressure.
Slab Leaks
A slab leak refers to a leak in the water lines running beneath the concrete foundation of your property. These can be particularly challenging to detect due to their hidden location. But don't worry - our team has the expertise and equipment to accurately diagnose slab leaks, preventing further damage to your building's structure. We use non-invasive methods to locate the leak source, ensuring minimal disruption to your property while providing effective repair solutions.
Wall Leaks
Leaks within your walls can lead to significant issues, including structural damage and mold growth. Our wall leak detection service is designed to find these hidden leaks without causing unnecessary damage to your walls. Utilizing state-of-the-art technology, we will pinpoint the exact location of the leak allowing for precise repairs. Our goal is to address the problem quickly and efficiently, preventing further water damage to your property.
Basement Leaks
Basement leaks can cause a host of problems, from structural instability to the growth of harmful mold. Whether the leak is coming from cracks in the foundation, window wells, or plumbing fixtures, our team is equipped to find and fix the issue. We thoroughly inspect your basement using advanced leak detection methods, identifying the source of the leak, and providing effective repair options.
On Time For Leak Detection Solutions That Work
It is absolutely essential to address leaks promptly to prevent more serious issues down the line. That's why On Time Plumbing is committed to providing fast, reliable, and efficient leak detection services that you can trust. Our team is dedicated to delivering high-quality solutions to ensure the longevity and safety of your property.
Whether you suspect a slab leak, a leak within your walls, a leak in your basement, or a leak anywhere, you can count on our team to handle it with professionalism and expertise. Contact us today to schedule a service or get an upfront price quote. We look forward to hearing from you!