The Best Heating Services In Wichita, KS & The Surrounding Areas
Keeping warm during the Wichita winter can be challenging - especially with an unreliable heater! That's why we offer the best heating services in Wichita, KS & the surrounding areas. On Time Plumbing, Heating, Cooling & Electric can help make sure your heating system is good to go. Our talented HVAC professionals know the ins and outs of all types of heating systems. They can get to the bottom of a problem and fix it fast, ensuring your home is ready for the coldest days of the year.
Whether you need repair, replacement, maintenance, or 24/7 emergency service, turn to On Time.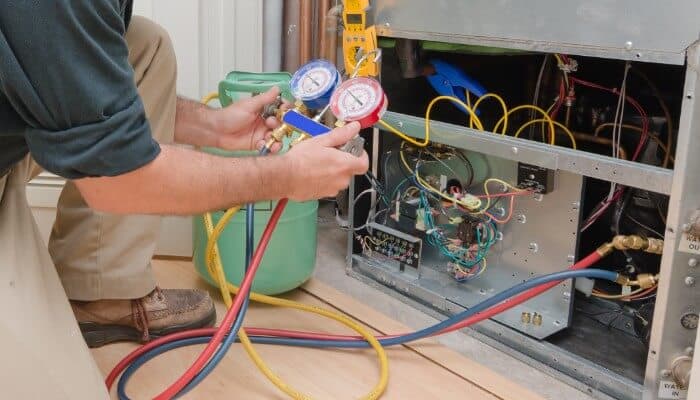 How Long Does It Take To Install A Heater?
Replacing an old heater with a new unit can be done in as little as a day. Our team will visit your home, discuss your needs, and schedule service for a convenient date and time.
Can My Heater Be Repaired?
It's possible that your heater can be fixed, but it may be too damaged. Our technicians can inspect the system, determine the cause of its problems, and discuss your options.
How Do I Avoid Future Heating Problems?
It's best to schedule heating system maintenance in the fall before you regularly run the system. It's also a good idea to replace your heating unit every 10 to 15 years.
Heating Services Near Wichita, KS
No matter what you need, we're your go-to crew for all things heating.
Keeping warm can require various heating services depending on your system and its problems. Turn to us when you need heating repair, replacement, or maintenance services for:
Furnaces
Boilers
Heat pumps
Ductless mini-splits
Ducted systems
Geothermal systems
Package units
Signs You Need Heating Repair Around Wichita
Heater problems can be stressful, but the right HVAC team can help resolve them quickly. You might need the help of a professional HVAC technician if:
Your heater won't heat certain rooms: If you can't get warm air to flow into every room, there is a problem with your heating system.
Your unit emits a burning smell: Your heater should never let off a burning smell as it's a sign of an internal fire.
Your heater hasn't been replaced in over 15 years: Heaters are designed to work well for about 10 to 15 years before needing to be replaced.
Your system smokes or sparks when in operation: Smoke and sparks should never come from your heating unit, as they can start a fire.
Ensure your heating unit is working safely and correctly on the coldest nights of the winter.
Why Choose On Time Services?
Since 2004, our crew has served Wichita, KS, and the surrounding area with top-tier home services.
You can count on us for plumbing, heating, cooling, and electricity. Our licensed and insured technicians provide free replacement estimates, upfront pricing, same-day service, 24/7 emergency care, and satisfaction guaranteed.
Schedule heating services in Wichita, KS, by calling On Time Services at 316-721-5055 today!