Wichita's Best Full-Service Plumbing Company
Even minor plumbing problems can disrupt everyone in a home or office. On Time Plumbing, Heating, Cooling & Electric provides same-day plumbing services for Wichita homeowners and business owners so that no one has to go without a reliable plumbing system for long.
Trusted By Local Homeowners and Business Owners Since 2004
No matter if a pipe bursts or your water heater runs out of hot water at midnight, we offer fast, dependable plumbing repairs that allow you to promptly return to your routine.
Schedule a plumbing service now and receive same-day service. Call 316-721-5055 or contact us online.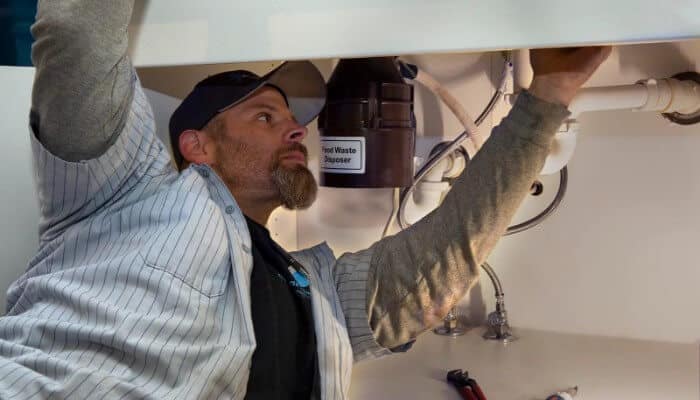 Can I Increase The Water Pressure In My Bathroom Faucet?
First, check the emergency shutoff under your sink to make sure it's fully open. If rubber washers or seals have begun to deteriorate, you'll also lose water pressure, so check those. Calcium and lime buildup will also cause low water pressure.
Can I Replace My Two-Handled Faucet With A Single-Handle Faucet?
Usually, faucet dimensions and sink openings are standard throughout the plumbing industry, so the answer is usually yes. There are a few exceptions, so check the size of the sink opening before you buy new fixtures.
What Should I Do If My Garbage Disposal Stops Working?
Before calling a professional, be sure to try the reset switch located on the bottom of most disposals. If this doesn't work, give us a call!
24/7 Emergency Plumbing Services
Whether you have a plumbing repair emergency or want to replace a fixture, On Time can help.
We offer 24/7 emergency plumbing services to restore your plumbing system as soon as possible. Our team of licensed and insured plumbers has the knowledge and skills to provide quality plumbing services for various fixtures.
Request emergency plumbing repairs by calling 316-721-5055 or contacting us online.
Water Heater Installation, Replacement & Repairs
Our licensed plumbers provide expert water heater repair services for electric, gas, and tankless water heaters. We even work on expansion tanks, too!
If it's time for a water heater replacement or you're building a new home and need water heater installation, we'll provide free estimates for water heaters that fit your needs and budget.
Sewer & Drain Services
Our sewer and drain services help homeowners and business owners in Wichita, Andover, Newton and the surrounding areas get their plumbing systems repaired quickly, find hidden plumbing issues before they become an emergency, and extend the life of their pipes and fixtures. We provide:
Sewer line pump installation, replacement & repairs
Hydro jetting
Sump pump installation, replacement & repairs
Water line installation & replacement
Tree root infiltration services
Backflow testing
Septic pump replacement & repairs
Piping Repairs & Replacement
Depending on your piping material and whether or not it's sustained significant damage, piping generally doesn't need to be replaced until it's about 25 years old. The On Time team offers piping repairs & replacement so that your pipes are more likely to last as long as they should.
Leak Detection Services
Slab, wall, and basement leaks can be hard to find without the right tools. On Time has state-of-the-art leak detection equipment so that we can find and repair leaks without digging or cutting into your walls or floors.
Other Plumbing Services
Each of our plumbers is ready to provide quality plumbing installation, replacement, or repair services on various appliances, including:
Garbage disposals
Water softeners
Bathroom plumbing (like faucets, sinks, and toilets)
Ice makers
Well systems
And more!
On Time plumbers have the experience and expertise to install any new appliance in your home or office.
Call 316-721-5055 or contact us to schedule an installation.
Commercial Plumbing Services
Plumbing problems in commercial settings threaten to halt productivity and customer service. Our commercial plumbing services are available 24/7 for emergencies to reduce any downtime your Wichita- or Newton-area business experiences as much as possible.
Request emergency commercial plumbing services now, and we'll send an expert plumber to your facility immediately.
Call us at 316-721-5055 or contact us online.
Plumbing Brands We Service
American Standard
AO Smith
Bradford White
Kenmore
Moen
Rheem
Rudd
Toto
Weil-McLain
Trust On Time For Top-Rated Plumbing Services in Wichita, KS
On Time is proud to be the plumbing services provider Wichita business owners and homeowners turn to first when they have a plumbing issue. We offer upfront pricing and financing options to make any investments easier on your budget, and we guarantee your satisfaction with our service.
Schedule a plumbing service today when you reach out online or call 316-721-5055 .