Sewer Lines, Sump Pumps, Backflow Services, and More Near Wichita, KS
When something goes wrong with your home's sewer line, your entire plumbing system has to go on hold. You need a team that will address your problem with speed and skill to get your home flowing again. On Time Plumbing, Heating, Cooling & Electric is happy to offer full sewer line services as well as sump pump, backflow, and septic work in and around Wichita, KS. With 24-hour emergency plumbing service available, we've got you covered when something happens unexpectedly. Our licensed plumbers will ensure your sewer line and all of your plumbing system flow without issue for years to come!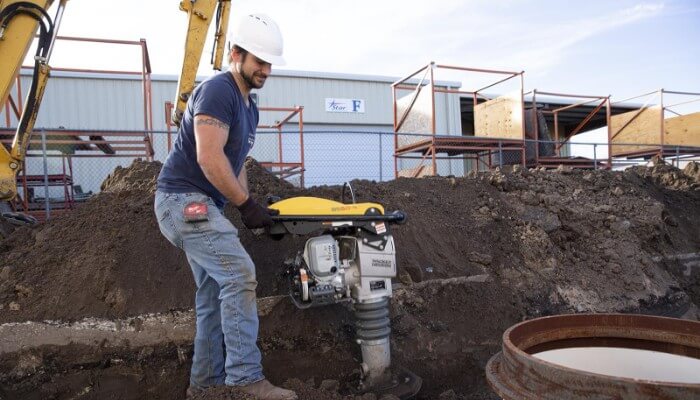 What Can I Do About A Sewer Line Blockage?
The main culprit is tree roots, and once they've blocked the line, there is very little you can do. A plumbing professional can snake the line to get it as clear as possible, and then use copper sulfide products to kill the remaining vegetation. But odds are the sewer line will most likely need to be replaced.
What Are Some Signs That My Sewer Line Needs Repairs?
Poor drainage, gurgling sounds, unpleasant odors, backed-up water, and visible mold or mildew in the bathroom are a few signs of sewer troubles. If you encounter these signs, it's important to have your sewer line inspected by a professional plumber as soon as possible.
Sewer Line Services
Sewer line services are critical to the proper functioning of a building's plumbing system. A sewer line is responsible for carrying waste and water from a building's plumbing fixtures to the main sewer or septic system. Over time, the sewer line can become damaged or clogged, leading to a variety of problems.
Sewer line repairs are necessary when a sewer line is damaged or clogged. These repairs can include fixing cracks, leaks, or breaks in the line, or removing blockages such as tree root infiltration or debris. Trenchless sewer line repair is a newer method that uses minimal excavation, making it less disruptive and less expensive than traditional sewer line repair methods.
Wichita Sewer Line Repair and Replacement
If you're experiencing sewer line problems such as leaks, blockages, or deteriorated pipes, our team is here to help! We employ advanced techniques and state-of-the-art equipment to accurately diagnose the issue and recommend the most appropriate solution. We proudly offer both trench and trenchless sewer line solutions to fit your situation and budget. Whether it's a minor repair or a complete replacement, we are committed to restoring the functionality and integrity of your sewer line system efficiently and effectively.
Sewer Line Cleaning
Regular sewer line cleaning is essential to prevent clogs and maintain optimal performance. Our team utilizes industry-leading methods, such as hydro jetting, to thoroughly clean your sewer lines and remove stubborn debris, roots, and other obstructions. By investing in routine sewer line cleaning, you will avoid costly repairs and ensure the longevity of your plumbing system.
Sump Pump Installation and Repair
A sump pump is a crucial component in preventing water damage and flooding in basements and crawlspaces. At On Time, we specialize in sump pump installation to ensure your property is equipped with a reliable and efficient system. Additionally, if your sump pump is malfunctioning or requires repairs, our team will diagnose the issue and provide prompt solutions to keep your space dry and protected.
Septic Pump Replacement and Repair
For properties with septic systems, regular maintenance and timely repairs are vital to prevent sewage backups and environmental hazards. Our professionals are experienced in septic pump replacement and repair. We'll make sure your septic system functions optimally so you can enjoy a long-lasting and efficient septic pump system.
Backflow Testing and Installation
Backflow is a potential health hazard, which is why backflow devices and regular testing are a must. We offer comprehensive backflow testing services to ensure that your sprinkler system is not contaminating the local water supply. Our licensed plumbers will test and evaluate your backflow prevention devices to provide you with accurate assessments and necessary repairs or replacements to meet regulatory requirements.
Sewage Ejector Pump Installation, Replacement, and Repair
Sewage ejector pumps are responsible for efficiently removing wastewater from below-grade areas. Our skilled technicians specialize in sewage ejector pump installation and repair, ensuring that your property's sewage disposal system operates smoothly. Whether you need a new installation or require maintenance on an existing pump, we are committed to delivering reliable and efficient solutions.
Keeping Money In Your Pocket and Time In Your Day
At On Time Plumbing, Heating, Cooling and Electric, we know how important a properly functioning sewer line system is to homeowners. With our wide range of professional plumbing services, you can trust our highly-trained plumbers to provide you with exceptional service and reliable solutions. Contact us today to schedule an appointment and experience the difference of working with a trusted plumbing partner who is committed to keeping money in your pocket and time in your day!