Expert HVAC Maintenance Services In Wichita, KS
At On Time Plumbing, Heating, Cooling & Electric, our team of professional and reliable technicians has the skills and knowledge to handle all your maintenance needs for your HVAC systems. We value our customers, so we guarantee your satisfaction with every job we complete. Trust us to keep your Wichita home or business running smoothly and efficiently.
Enjoy all of the benefits of a well-maintained HVAC system by calling On Time today at 316-721-5055 !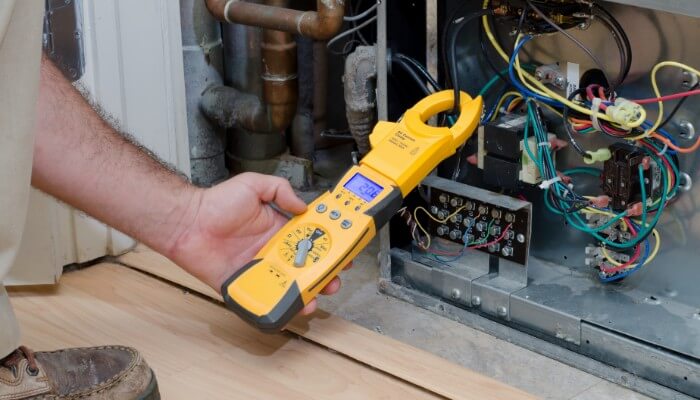 HVAC Systems We Maintain
We understand the importance of maintaining your HVAC systems. It's a great way to ensure optimal performance and energy efficiency!
That's why our team of professionals offers comprehensive maintenance services for all types of HVAC systems, including:
Gas, electric, and oil furnaces
Heat pumps
Boilers
Geothermal systems
Central air conditioning units
Our maintenance services include regular inspections, cleaning, and tune-ups to ensure that your systems are running at their best. We also offer repair and replacement services for any components that may be worn or malfunctioning.
Call 316-721-5055 now 24 hours a day for help in Wichita and the surrounding areas.
Benefits Of Regular HVAC Tune-Ups
Regular maintenance can help identify issues before they become major problems, saving you money in the long run.
At On Time, we understand the importance of keeping your systems well-maintained, which is why we offer comprehensive maintenance services. Some of the benefits of regular air conditioning and heating maintenance include:
Improved energy efficiency
Reduced energy bills
Extended equipment life
Fewer breakdowns and repairs
Increased comfort and air quality
Enhanced safety
By scheduling regular maintenance, you can ensure your systems are running at their best.
HVAC Maintenance Frequently Asked Questions
What Time Of Year Is Best To Schedule A Tune-Up?
The best time of year to schedule a tune-up for your HVAC systems depends on the type of system you have. It is recommended that you have maintenance done both in the fall and spring. In the fall you get your heating systems worked on and in the spring you tune up your cooling systems.
This ensures that the systems are ready to work when needed and avoid unexpected breakdowns during extreme weather conditions.
Is There Any Maintenance I Can Perform Myself?
While regular maintenance of your HVAC systems should be performed by a professional technician, there are some simple tasks that you can do yourself to help keep your systems running efficiently. These include changing air filters and clearing debris around your outdoor units.
What Should I Expect During A Maintenance Appointment?
During a maintenance appointment for your HVAC systems, a professional technician will perform a variety of tasks to ensure that your systems are running efficiently and effectively. These include visually inspecting your unit, cleaning components, tuning up parts, and testing your unit for optimal operation.
Schedule A Tune-Up With On Time
At On Time Plumbing, Heating, Cooling & Electric, our experienced technicians can help keep your systems running smoothly and efficiently with our comprehensive maintenance services.
From gas furnaces to air conditioning units to mini-split systems — no matter the type or size — regular maintenance will bring you numerous benefits, such as lower energy bills, improved comfort levels in your home or business environment, and increased safety for all who inhabit it.
Call 316-721-5055 or contact us online to schedule a tune-up for your air conditioner, furnace, heat pump, or other HVAC system in your Wichita-area home.