Residential Piping and Repiping Services Near Wichita, KS
When a pipe is damaged in your home, it can cause a whole lot of chaos and destruction! At On Time Plumbing, Heating, Cooling & Electric, we provide pipe services designed to meet the diverse needs of our customers. Our team of experienced professionals is dedicated to providing high-quality solutions for pipe repairs, piping replacement, and whole house repiping projects. Each service is tailored to ensure the durability and efficiency of your plumbing system. Connect with our expert plumbers today for a quote or to get started!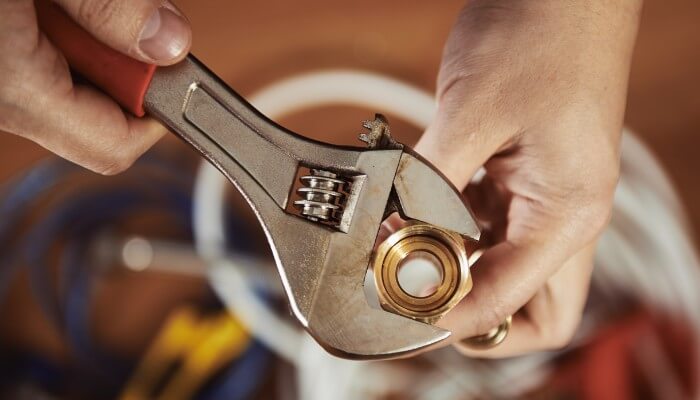 Should I Close And Open The Main Water Supply Shutoff Valve Periodically?
Yes. You want to make sure they're not stuck in the open position just when you have a water emergency! Do the same periodic check for the shutoff valves on your sinks, tubs, and toilets, too.
Why Do I Hear A Vibrating Noise In My Pipes?
Noises can be fairly common in plumbing supply lines. If a washer in a faucet or valve is loose, you'll hear it rattling or knocking. If the sound occurs when you open and close faucets rapidly, it generally means pipes are loose, and can be corrected by anchoring pipes more securely. If it really bothers you, you can add air chambers at the end of long pipe runs. Their installation will probably require a plumbing professional.
Are Caustic Liquid Drain Openers (Like Drano Or Liquid Plumber) Harmful To Pipes?
For minor clogs, they're fine, but never use them on a drain that is completely clogged. The caustic ingredients get trapped in your pipes, and it can severely damage them. If you can't snake the drain yourself, contact a professional to do so. Never use caustic drain openers in a drain that has a garbage disposal.
Pipe Repair In Wichita and Surrounding Areas
Pipes can suffer from leaks, blockages, and cracks, all of which can disrupt your daily routine and potentially lead to significant damage if left unattended. On Time offers prompt and reliable pipe repair services to resolve these problems and restore your plumbing system's functionality. Our skilled technicians utilize advanced diagnostic tools to pinpoint any leaks or problems, ensuring targeted and effective repairs. We use high-quality materials and proven techniques to guarantee long-lasting solutions. We'll get your pipe fixed the right way, the first time!
Piping Replacement Services
In some instances, especially with older or severely damaged pipes, simple repairs just may not be enough. That's where our piping replacement service comes in. Our team conducts a thorough assessment of your existing piping system, taking into account factors like the age, extent of damage, and material of the pipes. Based on this assessment, we provide a customized replacement plan that aligns with your specific needs and budget. Our replacement services are designed to minimize disruption to your property and provide you with a piping system that last decades and beyond.
Whole House Repiping Projects
For properties with outdated or extensively damaged plumbing systems, our whole house repiping service is the ideal solution. This service involves replacing all the pipes in your property with new, high-quality ones that are designed to last for many years. Our team manages every aspect of the project, from the initial planning and removal of old pipes to the installation and testing of the new system. We work diligently to complete the project efficiently, ensuring minimal disruption to your routine.
On Budget - On Target - On Time
At On Time Plumbing, Heating, Cooling & Electric, we're committed to providing top-notch pipe services you can rely upon. Whether you require minor repairs, a full piping replacement, or a comprehensive repiping of your entire property, our team has the expertise and dedication to ensure your complete satisfaction.
Contact us today to schedule a service or a price estimate. We look forward to providing you with reliable, high-quality pipe solutions that enhance the longevity and efficiency of your plumbing system!