Expert Water Heater Repair For The Wichita Area
Same-Day Repairs From Trusted, Local Plumbers
A malfunctioning water heater is a serious inconvenience. That's why we offer expert water heater repair for the Wichita area! At On Time Plumbing, Heating, Cooling & Electric, our team of experienced plumbers works quickly to restore your water heater in no time! Whether your unit needs minor repairs or requires significant work, our water heater experts will do the job quickly and effectively. We can repair practically any issue with your system and will always give you a comprehensive evaluation and estimate for the required repairs.
When your water heater goes cold, call On Time at 316-721-5055 for fast and reliable water heater repairs in Wichita today!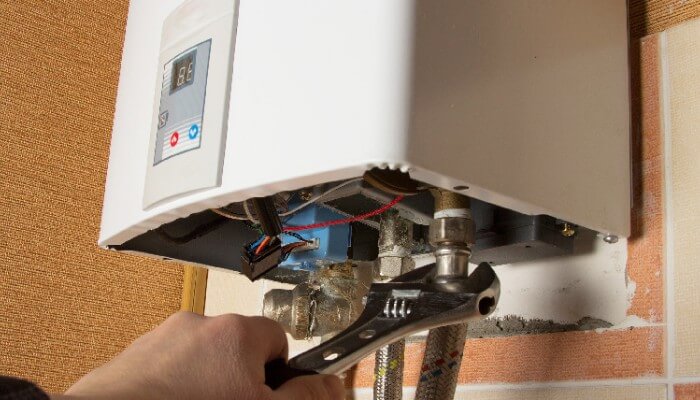 Water Heater Repair Frequently Asked Questions
Can I Repair My Water Heater Myself?
We strongly advise against DIY water heater repairs. Because of the connections to gas and electricity, there is a significant risk of personal injury and property damage. Moreover, water heaters are complex machines that require specialized tools and expertise to properly repair.
Will Preventative Maintenance Help Protect My Water Heater From Critical Damage?
Staying on top of preventative maintenance ensures your system operates within optimal parameters. This improves energy efficiency, keeps components in good condition, and extends the service life of your water heater. Keeping current on maintenance requirements is also essential for preserving any warranty coverage from the manufacturer.
Signs Your Water Heater Needs Repairs
All water heaters will give off signs that problems are brewing before a complete breakdown occurs. It's important to pay attention to the operation of your system to catch these problems early. If you notice any of the following signs, we recommend scheduling a service appointment without delay:
Insufficient or no hot water: This can indicate problems with the heating element, fuel supply, electrical system, etc.
Odd noises: Banging, grinding, screeching, gurgling, or popping sounds can indicate sediment within the tank, loose components, and other issues.
Leaks: Water pooling around the water heater can indicate problems with seals, valves, or possibly corrosion.
Water discoloration: Rust-colored water is an indication of corrosion within the pipes or the storage tank, while cloudy water with an unpleasant odor often indicates sediment buildup or bacterial overgrowth.
Why Choose On Time?
Since 2004, our water heater specialists at On Time Plumbing, Heating, Cooling & Electric have proudly served clients in Wichita and surrounding areas.
We offer 24/7 emergency services, and our on-time, reliable professionals guarantee your satisfaction with our services. We are licensed and insured and can service all brands. You can depend on our background-checked technicians to give you the superior service and reliable results you deserve!
Connect with On Time today to schedule prompt water heater repair services in Wichita!